General Electric
GE

LF-115
<![if !supportEmptyParas]> <![endif]>
<![if !vml]>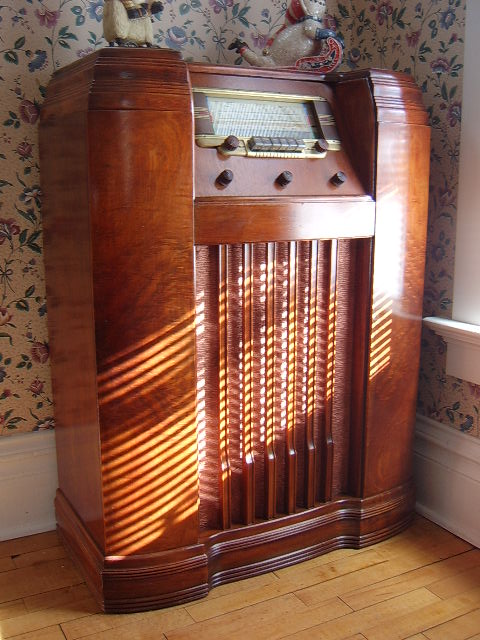 <![endif]>
<![if !supportEmptyParas]> <![endif]>
<![if !supportEmptyParas]> <![endif]>
Here's a picture of my restored GE Lf-115. A great console made by GE that had several different cabinets. Mine shown here is the lower profile deco style cabinet (I have seen another variation of this cabinet and the one I own is more rarely found). This model has a push-pull audio output stage, and 1 speaker in an enclosed and padded acoustic chamber GE had designed. In addition, the famous GE "beam-a-scope" antenna system was also run inside of the cabinet thus eliminating the need for an external antenna (but you have to rotate the whole cabinet to get the best reception at times!). It consists of 3 separate antennas – one for each band, as this is a 3-band console with phono input. Besides the BC band and a SW band going from 5 to 18 MC, this radio also has the old experimental FM band (40's MHz range). It works great for listening in on the neighbor's baby monitors and cordless phones that work in this range! I have also found that there are some subtle differences in the dial glass, mine having a gold background where the GE logo and name are located, I have also found pics on the net where this background is white (the other cabinet). Not sure why the difference unless one cabinet was an upgrade or a mid-year model?
<![if !supportEmptyParas]> <![endif]>
As for my restoration, I haven't touched the chassis yet – but it works very well with only a few minor issues. Hopefully this winter I'll get to go thru the electronics. I have since found knobs (as this only came with 2 as shown above). I picked this up at a Good Will for $20, brought it home, and it worked (though they said it didn't – but then again they didn't know how to operate it). The cabinet was beat up but in good shape after stripping it, and it restored well (only a few places needed some filler). The one part I couldn't replace was the horizontal area below the slanted control area as it was a "burl" pattern printed sticker applied to the cabinet vs. veneer. This was lost in the process and I toned this area to make it match (though you can see a stain from water damage to the cabinet that I wasn't able to fully get rid of). I also have yet to replace the grille cloth. It was beat up and for the time being I just spray-painted it a copper color until I can replace it. This is one cabinet that I didn't use lacquer on, but rather toned it using the Minwax Antique Maple poly/stain all in one combo (2 coats), and the used Minwax wipeable poly (gloss, and put about 10 coats on). I lightly sanded between coats and the finish came out nice and durable with a great depth and sheen. I know, why try poly – but I was curious and impressed (though lacquer dries quicker, this doesn't need to be rubbed out for a great finish).
<![if !supportEmptyParas]> <![endif]>
I'd be interested to see or hear about your LF-115! E-mail me at davesimonis@hotmail.com
<![if !supportEmptyParas]> <![endif]>
<![if !supportEmptyParas]> <![endif]>